Each OMI that you purchase comes with one free necklace, which you can select from the dropdown boxes on the OMI gallery pages. Additional necklaces may be purchased on this page for $5 each except for the silver plated mesh, which is $10. The silver mesh is suitable only for Large OMIs. All other necklaces are interchangeable with all OMIs.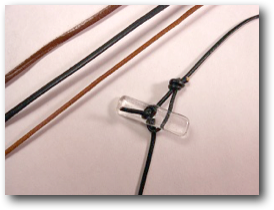 Toggle Instructions:

Leather Cord can easily be shortened with the OMI glass toggle technique. The basic rule is "Do not mess with the loop." Any shortening is done from the toggle end by adjusting the simple single knot. Any excess leather cord may be trimmed if that is to be the permanent length. If you leave the excess hanging in the back, you can continue readjusting. Also, to add or remove your OMIs untie the knot.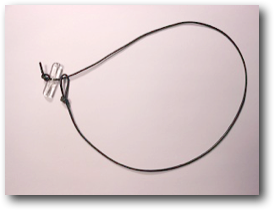 Leather cord colors com as Flat Brown, Flat Black, Round Tan, or Round Black calf leather. Each has an original by Lise OMI "toggle and loop" style closure. The neckless is adjustable at the clasp - up to 28".
Flocked Velvet Necklace:
Necklace of flocked velvet, adjustable between 16-18" at the clasp - available colors Black, Blue, Red, Purple or Pink.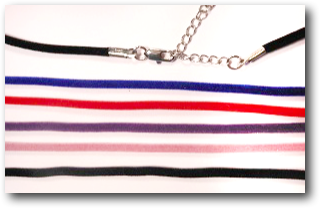 Cable Chokers:
Black or Silver color cable chokers in lengths of 16", 18" or 20" with magnetic closures.
Ball End Chokers:
Silver or gold tone ball end chokers - 15" only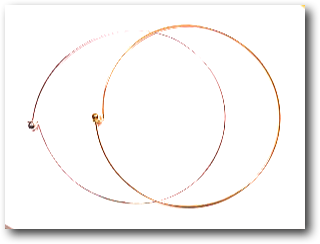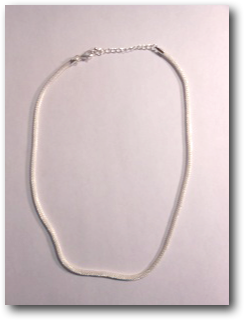 Silver Mesh Choker:
The
silver mesh choker is adjustable from18-20". The clasp detail is shown above. Suitable for LARGE OMIs only!
Available free with your purchase of a large OMI. Available separately for $10.00.